FCA continues to support members through online meetings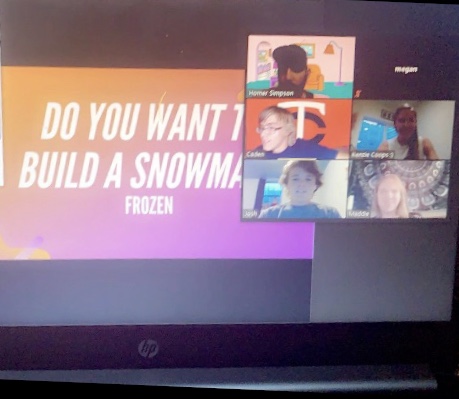 During this time of the 2020 pandemic many clubs and organizations in Eagle County and nationwide have been drastically affected. The fact that teenagers and high school students thrive in a social atmosphere and gain confidence through social interactions makes the Stay at Home orders almost tragic for this age group. It makes the leaders in charge and participants wonder which is worse, the virus or social isolation? Fellowship of Christian Athletes (FCA) is one national organization that has felt the effects of this issue.
McKayla Williams '20 is an FCA leader who has been part of the club as a member and leader for four years and has hosted the weekly meetings at her house the last two years.
"I have seen a 50 – 75% decrease in participation since we have started meeting remotely," says Williams.  "It makes me concerned for my fellow classmates who used to come regularly, and now I don't see them anymore during FCA." 
At a typical weekly meeting there will be 15 – 25 students participating in FCA at Eagle Valley High School. This number seems low, but for a small town this is a significant number of students in our community. Meetings typically include time to catch up with friends, have dinner, and listen to the sermon led by Mr. Kottenstette.  To end the evening small groups are formed to allow each student to pray for each other followed by fun games and activities. Bonds are formed and friendships are made at every weekly FCA meeting.
 Megan Misch '22 has been attending FCA for a year. 
"The club is special to me personally because it's a safe place to be and everyone gets along," Misch says. "The members and leaders really want you to be there and they miss me when I don't show up."
FCA has made huge adjustments during this time of social distancing and stay-at-home orders. Their intentions are to do their best to continue to meet and keep students engaged and supported. Since FCA is a national organization, the leaders and members have gone to social media to seek ideas and options for remote engagement. 
Peyton Nelson, a sophomore FCA leader at Los Alamitos High School in California,  explains that her FCA group uses social media to connect.
"We use our Instagram page as a huge way to get people involved and to communicate upcoming events," writes Nelson. "We also have live Monday night meetings on our instagram that they can watch and comment on.  I send out group chats through our Snapchat app and we often throw out text messages asking for prayer requests and any needs they may have. We will bring Bibles to their house if they need one."
Even with the intentional communication through social media and online meetings, participation continues to decline and students are alone and not engaging. With a club like FCA, which is all about supporting teenagers and making them feel important and accepted, lack of engagement is a concern. 
"
" I can relate back to God during this hard time and it just makes me go back to the truth and trust Him."
— Megan Misch '22
"Having FCA online is definitely different," reflects Misch. "We are limited to more talking than activities and there is only so much to talk about. I feel sad because I am a really social person and need contact with people.  It is hard to fit in and share when you are just looking at a person's face on a screen. However, I realize it is important to continue to show up to be there for my friends.  However, there are fewer and fewer students that are participating."
Obviously, the Coronavirus is serious and causing our world to change and social distancing is important. It is great to see how FCA leaders and members are doing the best they can to handle the situation and giving them hope during these times.
 " I can relate back to God during this hard time and it just makes me go back to the truth and trust Him. Basically everything we talk about at FCA is now put into practice," says Megan Misch.