Alejandro Gonzalez Mendez '21 nominated to Congress of Future Medical Leaders
Bode Kostick, Reporter
April 26, 2020
This week the Congress of Future Medical Leaders announced that Alejandro Gonzalez Mendez '21 will be a delegate to their  prestigious honors program for future medical students this summer in Lowell, Massachusetts.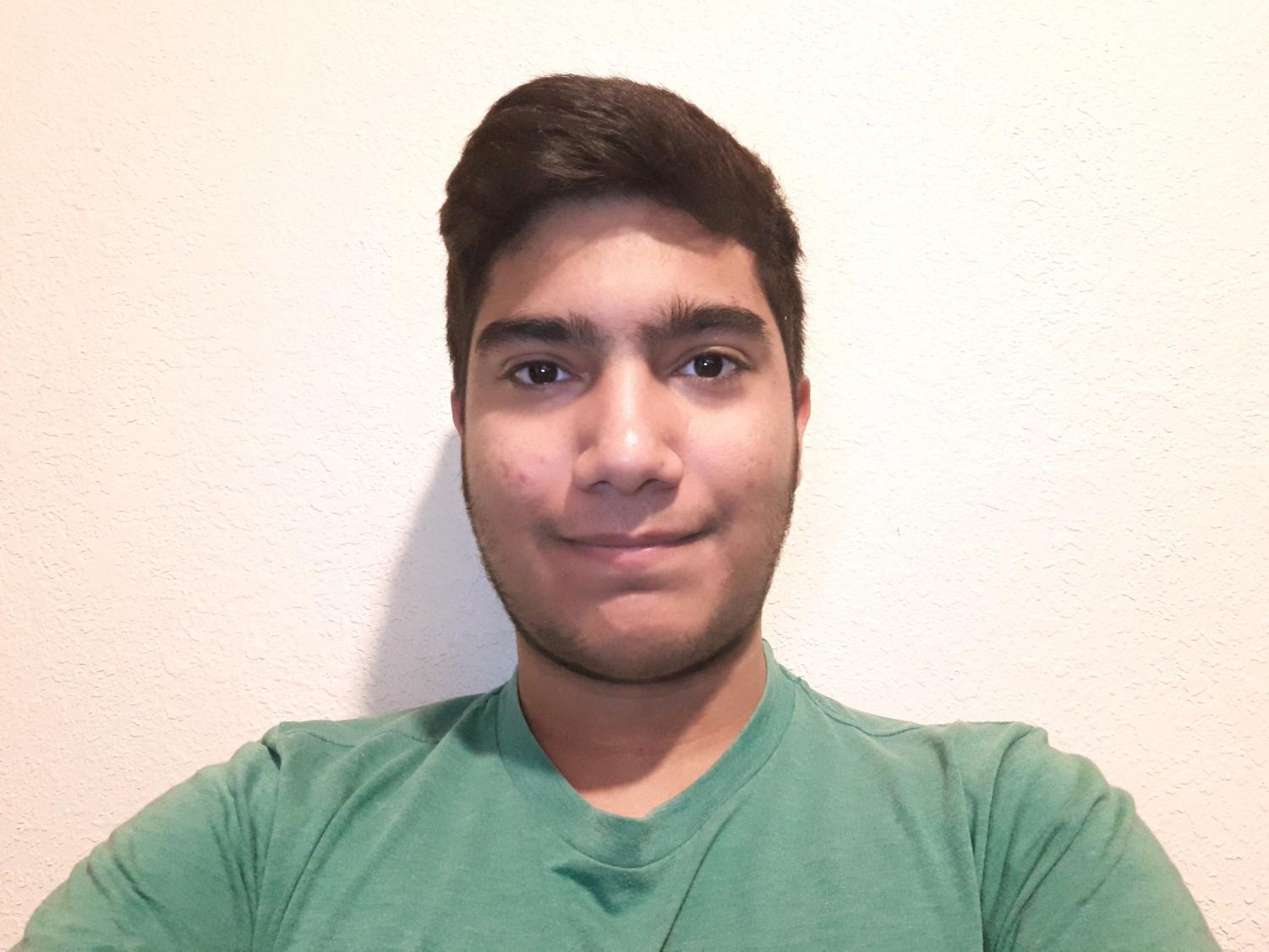 The press release from the National Academy of Future Physicians and Medical Students explains that, "The Congress is an honors-only program for high school students who want to become physicians or go into medical research fields. The purpose of this event is to honor, inspire, motivate, and direct the top students in the country interested in these careers to stay true to their dream and, after the event, to provide a path, plan and resources to help them reach their goal."
Gonzalez Mendez's interest in medicine began at a young age. 
"Both my parents work in the medical field," Gonzalez Mendez says, "and I guess I just wanted to follow into that field as well."
So when a letter came in the mail inviting him to apply for the opportunity to participate in the Congress of Future Medical Leaders, he saw it as a chance to pursue his goal. 
 "Normally I just ignore most of the mail I get, it's mainly unimportant, but this invitation seemed different, and it seemed important to apply," Gonzalez Mendez remarked. 
Gonzalez Mendez has been exploring his interest in medicine throughout high school taking science courses at Eagle Valley. Science teacher Mr. Devin DuPree has been a strong influence and important mentor in his life. 
"I would say Mr. DuPree is a big influence for me," says Gonzalez Mendez. "I've had him for PBS [Principles of Biomedical Sciences] and HBS [Human Body Systems], and he's a great teacher that has helped me pursue this field." 
Mr. DuPree is impressed with Gonzalez Mendez and his work ethic.
"He is a super diligent, detailed, thorough kid, " Mr. DuPree says.  "Now I've had him for two years as a student, and he is extremely hardworking and diligent with any of his work."

The Congress of Future Medical Leaders will enable Gonzalez Mendez to build on what he has learned from DuPree so he can take his interests to the next level and prepare to apply for Pre-Med programs for college next year.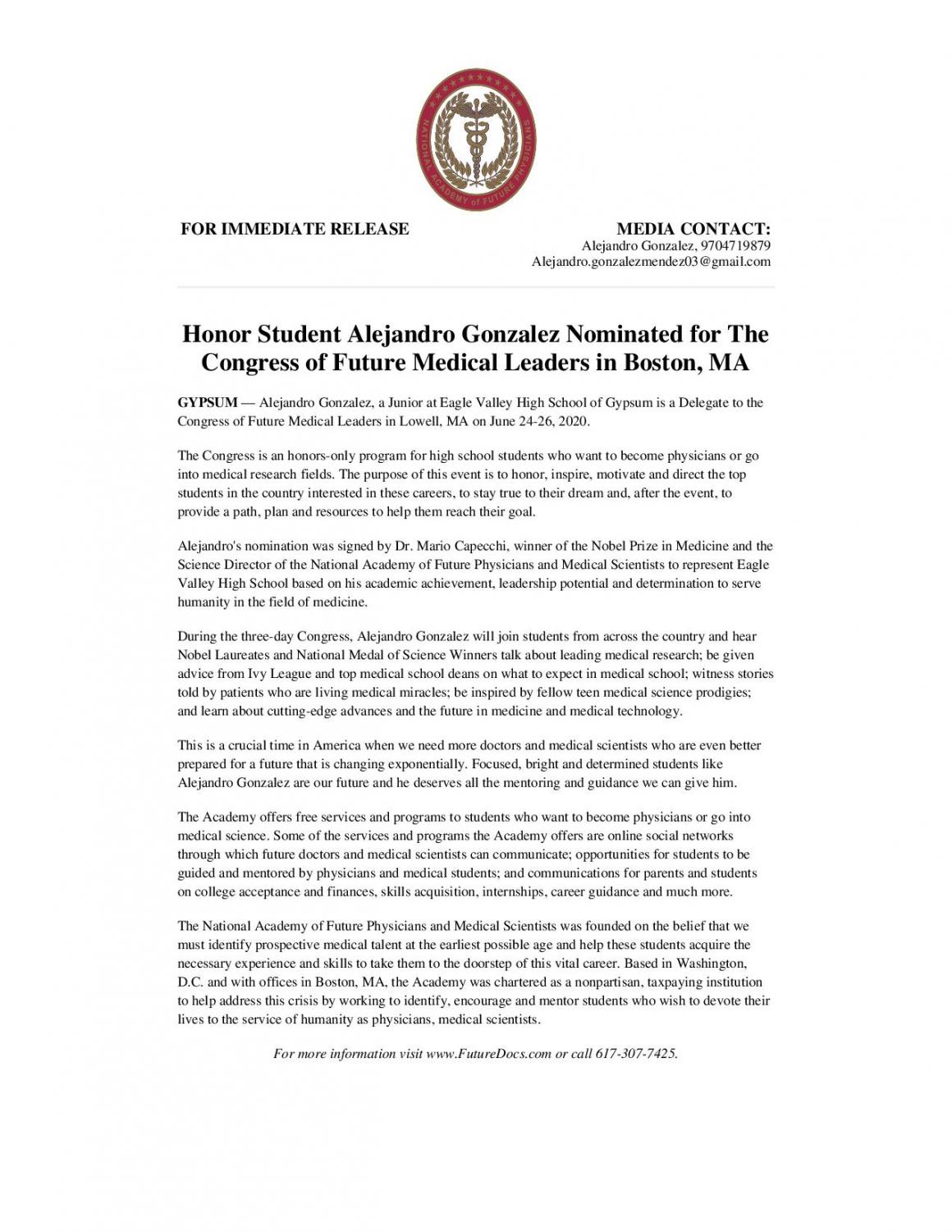 "During the three-day Congress, Alejandro Gonzalez Mendez will join students from across the country and hear Noel Laureates and National Medal of Science Winners talk about leading medical research; be given advice from Ivy League and top medical school deans on what to expect in medical school; witness stories told by patients who are living medical miracles; be inspired by fellow teen medical science prodigies; and learn about cutting-edge advances and the future in medicine and medical technology," the website of the National Academy of Future Physicians and Medical Sciences explains. 
Gonzalez Mendez is looking forward to participating in the Congress this summer.
"I think it's going to be interesting. It's all the way in Boston, and I'm going there by myself, which is a little scary. but I think it will be a very unique experience." 
Currently, the country is experiencing varying degrees of quarantine and shut down due to the spread of the novel coronavirus. For Gonzalez Mendez, this pandemic has deepened his interest in the medical field. 
"I think this has advanced my interest in the program," Gonzalez Mendez says. "I think it's really important to have medical professionals out there fighting this virus, helping people out."