Elementary schools face unique challenges adjusting to online learning
The people in an elementary school are what make it run. The teachers are there for their students and the parents are involved, this community like many other aspects of society have been affected by the COVID-19 pandemic. Online learning has been particularly different for elementary school students, their teachers, and their parents.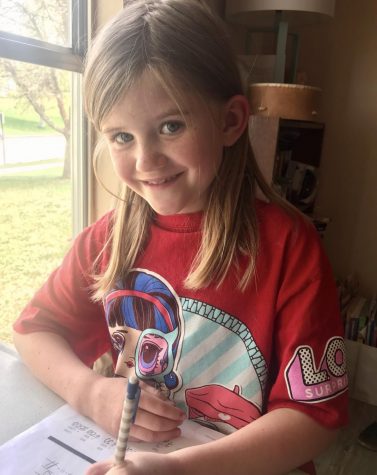 There are many challenges presented with online learning for elementary school. One of these challenges is communication.
"Communication is very difficult because the students do not have access to the internet or a device," says Gypsum Elementary School third grade teacher Meagan Bridges.
The access to a device makes learning easier while students are out of school. Eagle County Schools have distributed devices for students, but not to everybody.
"Access to devices is challenging because I have a kindergartner and a first grader, and they only distribute devices to grades second and up," Eagle Valley Elementary School parent Danielle Miller said. "I have been using my computer for work and so has my husband. So working around that has definitely been a challenge."
After devices were distributed to the students the communication was improved, but this is not the only challenge that the students are facing.
"One of the challenges the students are facing is that their parents do not know how to help them," Mrs. Bridges explains. "Either they do not have a good education, or it has been a while since they need to know this information." 
"
Out of 50 students, 38 have been participating
— Meagan Bridges
Parent engagement is very important in the success of the children especially during these times.
"They [the students] are asking a lot of questions, their parents are involved and the parents are doing a good job at being involved. Parent engagement has increased a lot, and I think that this will be a positive for now and in the future," Mrs. Bridges said.
Another obstacle for elementary school e-learning is how to teach the content to the student in a way that students and their parents 
are going to be able to understand. The teachers have to be creative in how they convey information.
"We have a Google Meet every Monday and Thursday to teach the students Math," Mrs. Bridges said.
Even with these challenges, students are finding ways to continue to succeed.
"The students have been doing super good. Out of 50 students, 38 have been participating," Mrs. Bridges said. 
E-learning and quarantine has also given families the opportunity to have more time to do things together. 
"
Teachers have done a wonderful job
— Danielle Miller
"Every night we go on a walk as a family," Caris, a first grade student at Eagle Valley Elementary School, said.
But elementary school students and teachers miss a lot about the school day. They miss everything from seeing the people that they are used to seeing every day to being able to see the teacher and ask questions.
"I miss the monkey bars," Caris reflects. "My friends and I race and play on the monkey bars together."
Overall the teachers, students, and parents have adjusted to this new normal.
"I am just grateful that their teachers have done a wonderful job, thankful for all the work they have put in to make this enjoyable still for their students for my kids," Danielle Miller says.