Safe Ways to Have a Spooktacular Halloween in Eagle County
Dressing up in costumes, carving  jack-o'-lanterns, and trick or treating are Halloween traditions that people look forward to all year. But this year, there's more than spooky decorations and haunted houses causing the scares. The current amount of COVID-19 cases is impacting how people will be celebrating Halloween this year.
 Ms. Kristina Aden is an English teacher at Eagle Valley with two young children, and they are making plans for how to celebrate Halloween.
"I have not seen any posted policies. People have inquired on Facebook, and it seems like plenty of homes plan to hand out candy that night," Ms. Aden said. "We are going to take our kids and hope to find some homes that seem to be giving out candy, even if it's only a few."
The Colorado Department of Public Health and the Environment released recommendations to help people celebrate Halloween while minimizing exposure and risk of spread of COVID-19.  Some of these recommendations are to "Follow local and state group size and mask orders and guidance" and consider the list of alternatives to traditional trick or treating. 
The Department also published a list of recommendations for alternative ways to celebrate depending on the level individual counties fall on the statewide COVID-19 dial dashboard. Eagle County is currently in Safer Level 2.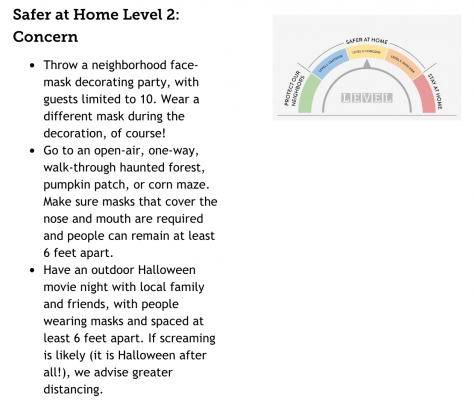 Local organizations are getting creative to help provide alternative ways to celebrate Halloween.
The Eagle Valley Library District is hosting a virtual Halloween costume contest for teens in grades 6-12.
 Their goal is to host an event for the valley's teens to participate in with the ever changing guidelines for other activities and traditions because of the pandemic.
"This Halloween costume contest was planned and created by the Teen Advisory Board at the Eagle Public Library," Dale Green, the Eagle Library's Teen Librarian, explained. "Members of TAB thought that with the uncertainty of being able to go trick or treating or attending any live Halloween celebrations, this contest would give middle and high school students an opportunity to use their creativity and participate in Halloween in a safe and fun way."
Mountain Youth was also planning on hosting a Halloween event for teenagers. 
"We wanted to provide a social event that was fun! Our event was going to act as an alternative to high school parties. We were hoping to encourage youth to have fun in a way that wouldn't require them to drink or to use drugs." Joslyn Sanchez from Mountain Youth said. 
The plan was "having two Halloween Films be shown (A Quiet Place and Beetle-juice), ping-pong, pool, etc. and snacks," Sanchez said. But due to public gathering restrictions, they cancelled the event.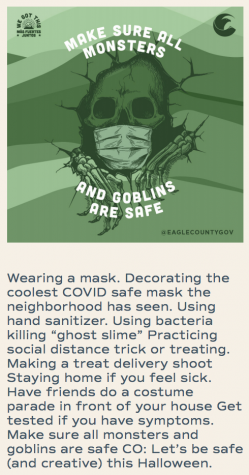 Here at Eagle Valley, students can celebrate Halloween by wearing costumes. 
"This year Halloween falls on a Saturday," Principal Greg Doan announced. "You can wear a costume on Thursday/Friday if you so choose to be a part of the holiday at school."
The school also published a list of reminders about dress code requirements associated with costumes:
1. Masks – if you wear a mask, it must cover your mouth/nose as part of COVID-19 safety
2. Dress code – all regular EVHS dress code policies apply (appropriate shoes must be worn, etc.)
3. Violence – no pretend "prop" weapons such as guns, knives, or swords.
4. Appropriateness – costumes cannot promote use of drugs, alcohol, or violence against others. Costumes should not be offensive or inappropriate in any way.
The Colorado Department of Public Health and Environment emphasizes in their Halloween Tips and Tricks that, "Costume masks are not a substitute for masks that protect against COVID-19 spread. Masks that protect against COVID-19, should be made from two or more breathable fabric layers that cover the nose and mouth, with no gaps around the face. Wear non-costume masks when indoors with non-household contacts and outdoors whenever 6 feet of distance cannot be maintained."
Even though Halloween is a different kind of spooky this year, there are many ways that people in the valley can safely celebrate and have fun.