Gypsum and Edwards gymnastics team find new ways to go into competition season
Every winter and spring the Gypsum and Edwards gymnastics team goes into competition season to show off their skills they have been working on all year. However,  competition season is going to be different this year because of COVID-19. 
Gyms across the country have started competitions on new and creative platforms.
"I've seen other competitions online, and they are super socially distanced and only one parent with each gymnast is allowed to come and watch," team coach Julia Vlaar says.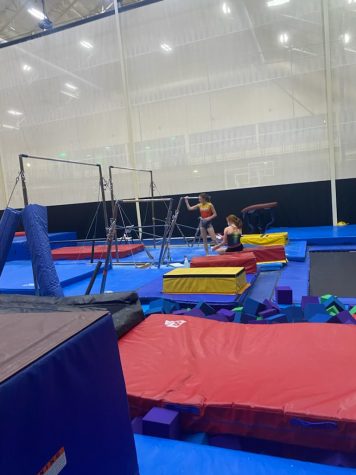 Even with these adjustments, the team is still looking forward to competitions starting in February.
"I am super excited to compete this year because I have improved so much, however, if we don't get to compete this year, that's okay because we will just do a couple of practice meets instead," gymnast and middle school student August Stovall explains.
Practice meets organized by local gyms for the gymnasts from Edwards and Gypsum to compete against each other. Coaches act as judges and determine awards,  so it feels real to the team, and they still look forward to it. 
"
I am very grateful that I can go to gymnastics and still improve even though we cannot use some of our resources like the pit and spotting"
— August Stovall
COVID-19 has impacted how sports are being played at all levels around the world. Some teams at some points have had to shut down completely, but since gymnastics is not a contact sport where everybody is touching,  it has been pretty easy to keep the gymnastics facilities open. 
"I am very grateful that I can go to gymnastics and still improve even though we cannot use some of our resources like the pit and spotting," Stovall says. 
The pit is typically very useful in gymnastics especially when the gymnast is trying to get new skills and they want to do it in a safe environment. But now instead of tumbling right into the pit, which is very hard to disinfect, gyms provide a very squishy mat on top of the pit which is a lot easier to disinfect and still creates a safe environment. 
"Without these resources the girls have worked up a lot of courage to try new skills, and I'm very proud of them for improving as much as they have," Coach Julia says. "COVID has been a challenge but we have pushed through and found new ways."
Gyms have enacted other protocols to promote COVID safety as well. After every practice, the coaches sanitize the whole gym with disinfectant. They also limit the number of gymnasts in the gym at a time so it is easy to socially distance. 
At times some of the gymnasts have their masks down during practices. It is dangerous to flip with a mask on because it could cover a gymnast's eyes, and they would not know where they are in the air and could hurt themselves.