Celebrating the holidays safely this season
The COVID-19 pandemic has been stressful and isolating for many people, and gathering for the holidays is usually an opportunity to reconnect with family and friends. But it is important to stay safe for the holiday season in the middle of a pandemic.  
"
Celebrating virtually or with members of your own household poses the lowest risk for spread."
— Faviola Alderete
Eagle County Public Health Department's Community Health Strategist is Faviola Alderete. She discourages people from gathering in person for holiday celebrations during the pandemic. 
"It is not safe [to have families over] because they will not be staying a safe distance from each other," Alderete says. "Celebrating virtually or with members of your own household poses the lowest risk for spread. Your household is anyone who currently lives and shares common spaces in your housing unit." 
For those who are going to meet in person with others, it is important to maintain six feet of physical distance. 
"They should be able to create a safe distance with each other if they are going to be meeting people and just to not interact with anyone that is not in the same household as you are," Alderete recommends.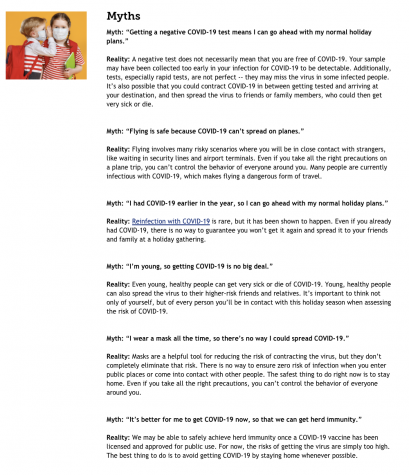 Teachers are making adjustments to how they celebrate the holidays in order to stay safe and minimize the spread of COVID-19.
"I'm not planning on doing much this holiday. Usually, I try to do some traveling, but this year I'm going to stay close to home," English teacher Mr. Walt Knight says. "I will go to Grand Junction to see two of my kids.  We'll maintain mask and distance protocols and stay close to home in order to be safe. My youngest son is in San Francisco and is on lockdown, so we'll be FaceTiming to spend some time with him."
Some teachers will still be traveling to be with family over the winter holidays but celebrating with less people to be safe.
"My family is driving to Missouri to see family over the first week of Christmas break," PE teacher Mr. Justin Brandt says. "To keep it simple my family is not having the large gatherings with great grandparents, cousins, neighbors, and aunts/uncles like we normally do. We normally have over 60 people at our family Christmas celebration. This year we are only meeting with my mom and dad, so my kids can have some time with their grandparents and also meeting with my wife's parents as well."
For more information and suggestions about safely celebrating the holidays over break visit the Colorado Department of Public Health & Environment's Tips for Safer Winter Holidays.