Return to the mat
Wrestling team heads to Regionals after season previously cancelled due to now revised CDPHE and CHSAA COVID-19 quarantine policy
Around 7 pm on March 4 the Wrestling team got word from CHSAA that they would continue their season at Regionals, and potentially State, a week or so after they were told that their season was over. 
After being exposed to COVID on February 20 at the Warrior Classic in Fruita, a positive COVID test came back on the team, and the whole team was required by CDPHE and CHSAA policy to quarantine for 14-days. CHSAA's policy differs from Eagle County Public Health's protocol, which distinguishes who should quarantine and for how long (ranges from 7-10 days) based on distance from and duration of exposure to someone who tests positive. The Wrestling team was told that the quarantine would end their season, and they were understandably disappointed.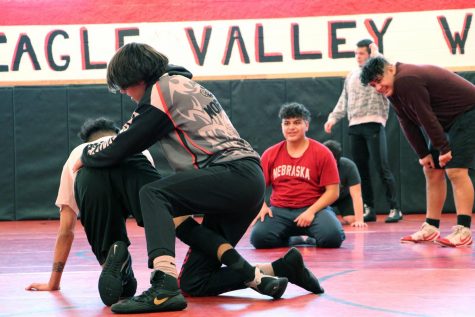 Head Coach Melvin Valdez continued to fight for the team's season, even after being told it could no longer continue due to the COVID-19 positive tests on the team. He got the call that CHSAA had reversed their quarantine policy on Thursday evening ahead of Regionals on Friday.
"CHSAA listened to the people that were upset, and I think that's why they changed it," Coach Valdez explained. "It's exciting that we can compete in regionals, and the team is on cloud nine." 
Coach Valdez contacted the team Thursday night with the news that they could wrestle in Regionals if they were ready.
"Our coach called us and asked if we were ready, if we were available Saturday," Brian Garcia '21 reflects. "I said yes, I'm ready. You don't have to get ready if you stay ready. Let's do it." 
All the wrestlers were eager and excited to reclaim their season. But after two weeks without practice during their quarantine, this last minute news required some adjustments.
"Last night, I found out that we were wrestling again, but I was overweight and did not want to cut weight overnight," Bubba Heredia '21 said. "So instead, I decided to get one whole practice in, and move up one whole weight class." 
Following about an hour of warming up and practicing, the team boarded the bus around 5 pm and departed for Colorado Springs, grateful for the opportunity to conclude their season in what was a very interesting season for the team. 
"It's like this ray of hope for something for us to see," Jason Morrison '21 says. "It's like some story out of a movie, the comeback champs." 
The Wrestlers compete in Regionals in Colorado Springs on March 5 and 6.