Boys Soccer in the Playoffs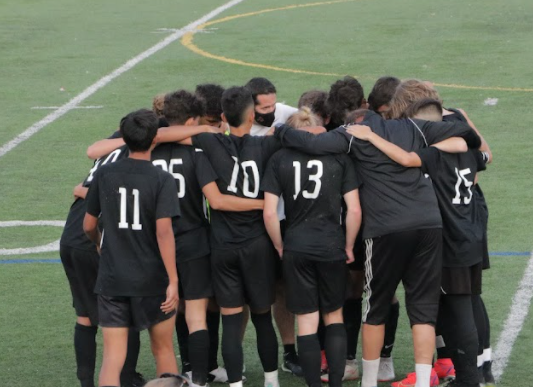 On Thursday, October 28, 2021, the Eagle Valley High School Boys Soccer team is hosting a playoff game against Northridge High School. Many of the players on the team have been on the team for several years and have seen positive changes.
Jose Montes, who has been on the team since freshman year and is now a senior, states, "The atmosphere has changed, the coaching changed a little bit"
The soccer team has to improve since the current senior's freshman year. Montes furthers, "The program has also changed drastically, freshman year we were a 1-10 team but this year we are headed for playoffs for the first time in like 6-8 years. So there has been much improvement in between."
The last time that the EVHS Boys soccer team made it to the playoffs was in 2015. This year the EVHS soccer team is 6-5 which shows great improvement. Jaime Gonzalez, who joined the team as a sophomore and is now a senior, adds, "our program has changed so much and we have made it into such a positive environment where we hope we can keep growing" The team community is an important aspect of the soccer team that has allowed them to continually improve. 
Additionally, both seniors have positive memories from their time on the team.
Montes says, "All the bus rides home, eating out with the team, the team huddles right after a good game, the hyping each other up after a banger shot. "
Gonzalez explains, "My best memory from being on the team was when I played in Steamboat for my first time and it was also when I scored my first goal."
The EVHS soccer team has a great team community and is continually improving. Let's go out and support the EVHS Devils in the playoff game.