The Ultimate Wish Week Guide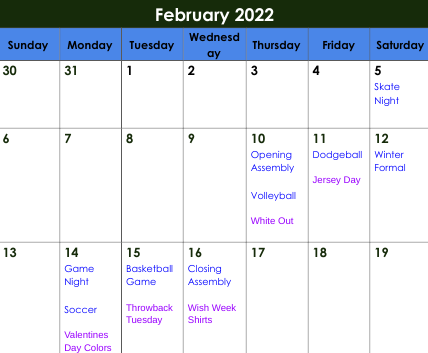 It is almost that time of year again, Wish Week! For those who are wondering what Wish Week is… it is a week of fun activities where EVHS raises money for Colorado Make-A-Wish. Each year, Eagle Valley sponsors a Wish Kid in our own Valley. This year we are helping to grant Jose's Wish. Jose is 11 years old and has been diagnosed with Cancer. His favorite color is blue, he loves to play with Nerf guns, and his favorite food is Oreos. The best way to grant Jose's wish is to attend some amazing events. So keep reading for your ultimate guide to this year's Wish Week!
Skate Night
When: Saturday 5, 1:00 – 3:00
Where: Eagle Pool and Ice Rink
Cost: Free! But skates cost $5
Details: This is the first annual Wish Week Skate Night, so be one of the first people to experience this amazing event. Bring your own skates or rent some for only $5. The rink is reserved for Eagle Valley students only, so come have fun with your friends. There will be a bake sale outside of the rink where you can buy tasty treats. Make sure to come check it out and learn a fun new hobby. 
Co-ed Volleyball
When: Thursday 10, 5:00 – 8:00
Where: EVHS
Cost: $5 per person
Details: Get excited! Co-ed Volleyball is going to be a great night where you make a team with all of your friends. There will be teams of 6 and at least 2 people of opposite gender on each team (if you have 4 girls you have to have 2 boys and vice versa). This will be played tournament style so there will be an ultimate winner! Tickets are $5 per person and make sure to go ahead and form your teams early.
Dodgeball Tournament
When: Friday 11, 7:30 – 9:30
Where: EVHS
Cost: $5 per person
Details: The Dodgeball Tournament has always been a favorite event but this year there is a little surprise. Teams are comprised of 6 people and games will be played in a bracket. There will be fun music, Mr. Brandt, and a $600 cash prize. You read that right, each person on your team will get $100 dollars if your team wins! 
Winter Formal
When: Saturday 12, 8:00 – 11:00
Where: EVHS
Cost: $10 before, $15 at the door
Details: Sad because it has been a while since Homecoming? Well now is your chance to attend another amazing EVHS School Dance. This year's theme is Winter Wonderland and as always, buy your tickets in advance because they are cheaper that way. Tell all of your friends and make sure you have a dress or suit! 
Game Night
When: Monday 14, 5:00 – 8:30
Where: EVHS, H2 Building
Cost: $5 per person
Details: Game Night is going to be filled with fun this year! There will be card games, board games, and trivia. Bring all of your friends, there will be free food and drinks. Then if you get lucky enough to win a game, there are a variety of awesome prizes!
Soccer Tournament
When: Monday 14, 5:00 – 7:00
Where: EVHS
Cost: $35 per team
Details: The annual Wish Week Soccer Tournament is back! You all should know the drill by now, but if you don't… There will be teams of 7. You can have 5 people on the field at the time and 2 subs. Teams will be playing half field, 15 minute games. It might be a little chilly so bring lots of layers and some awesome soccer skills!
Basketball Game
When: Tuesday 15, JV starts at 4:00 and Varsity starts at 6:00
Where: EVHS
Cost: $5 per person
Details: This year StuCo is turning the boys and girls Basketball games into a Wish Week Celebration. There will be donation jars set up around the gym and Varsity players will be passing them around as well. Players will have special Make-A-Wish T-Shirts and if you get hungry? No worries, there will be a bake sale outside.