Wrestling team wraps up season finishing third place at state tournament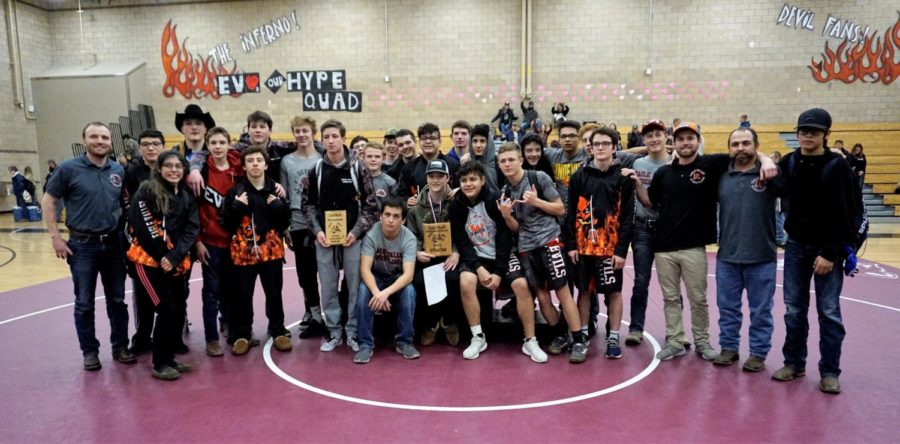 Every year when February rolls around, it's an exciting time for the Eagle Valley wrestling team. The past few years, the Eagle Valley Wrestling team has had the privilege to compete at the Colorado State Wrestling Tournament. This year, seven individuals competed at the 2018-2019 high school state wrestling tournament at the Pepsi Center in Denver, Colorado: seniors; Luke Morrissey, Ryder Bossow, Noah Baldwin, and Davis Ward; juniors Lucas Comroe, Cody Ponce, and freshman Kodi Raper.
The Eagle Valley wrestling team showcased well as usual at the state tournament, placing third overall in 3A. Luke Morrissey '19 finished his high school career taking third place in the 120 lb weight group, while Davis Ward '19 finished third place in the 182 lb weight group. Noah Baldwin '19  finished top eight in the 160 lb weight group, and was one match from placing. Ryder Bossow '19 finished his high school career at sixth place in the 138 lb weight group. As for the underclassmen, Cody Ponce '20 finished second place in the 220 lb weight group, and Lucas Comroe '20 finished second place in the 132 lb weight group.
Sterling Winnegrad '19 competed in an emotionally inspiring exhibition match, finishing first place in his match to cap off his high school wrestling career.
It was another successful and exciting year of Eagle Valley wrestling, a season that took many twists and turns, and it's also a season to never forget.