Remake fever
Is Hollywood losing its creative edge?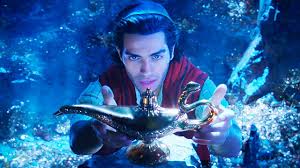 Hang on for a minute...we're trying to find some more stories you might like.
Like many people across America, I am thrilled to see Disney's upcoming live-action remake of Aladdin. The original animated film was one of my favorite movies when I was a child, and I watched it as many times as I could. The story of a poor "street rat" that meets a genie and becomes a prince to charm a princess is amazing, and I loved all of the characters and songs that made up the film. I am so excited to see a new reworking of the movie that will hopefully be even more magical than the original.
This isn't the first time that I, and many others that grew up on Disney animation, have rushed to theaters to see live-action remakes of the classic stories. The company has recently made billions off of the films, starting with the global success of Tim Burton's Alice in Wonderland. The studio has churned out reworkings of Sleeping Beauty, Cinderella, and Beauty and the Beast, all of which have been box office blockbusters and critical successes. They have many more of these films in the works, from the upcoming releases of Aladdin and The Lion King to those still in development, like Mulan and Peter Pan. It looks like almost all of Disney's animated library will eventually get the live-action treatment, as even films like Lilo and Stitch and The Hunchback of Notre Dame and looking to be remade.
This is not necessarily a bad thing. Disney's reasoning for all of these remakes is to "keep the stories relevant for a new generation." Combined with the obvious fact that Disney has found a treasure chest in these remakes, it makes sense that the studio would rely on these sort of films instead of originals like Frozen and Moana, which are becoming much rarer for the studio to release. Originals are much riskier, while reworkings of old films are almost guaranteed to be box office successes.  
However, in just retelling stories that have been done before, Disney is starting to take creativity out of Hollywood. The studio was once known for its creative genius, and created a collection of films that have stood the test of time and are just as beloved as they were upon their release. In resorting to just redeveloping these old stories, Disney is preventing even more stories to be told and pushes new ideas to the side.
To be clear, Disney, while being the most obvious culprit, is not alone in banking on remakes of old films. Films like It, A Star is Born, Annie, and Charlie and the Chocolate Factory have all been remade in recent years, to varying degrees of success. Some of the biggest movies to be released in recent years are simply remakes of old films. This really does take the ingenuity out of the industry, as creative originals simply cannot compete at the box office against remakes of beloved films. And if a studio is able to remake a film that is guaranteed to make lots of money, they are less likely to greenlight originals that could end in a box office disaster.
Hollywood must recognize the importance in developing truly original films that entertain audiences. The industry will simply lose global relevance if the current trend continues of depending on retelling old stories. While these remakes may make money, they do not excite audiences and have the same impact of a well-made original film. New movies like Jordan Peele's Get Out and Us or Baby Driver have had a massive global impact, and have changed Hollywood in ways that a retelling of The Jungle Book never could. In order to ensure that films continue to be groundbreaking and relevant across the world, Hollywood needs to once again focus on developing truly original stories for the screen.