EVHS's New Interpreter/Translator
For the last five years Ms. Sandra Macias worked as an interpreter/translator for the school district and was traveling school to school up and down the valley. One of the schools that she visited was Eagle Valley. Over the summer, Mr. Doan emailed her asking if she wanted to stay full time. She accepted and transitioned from being a district interpreter to being the Community Outreach Interpreter/Translator for Eagle Valley High School.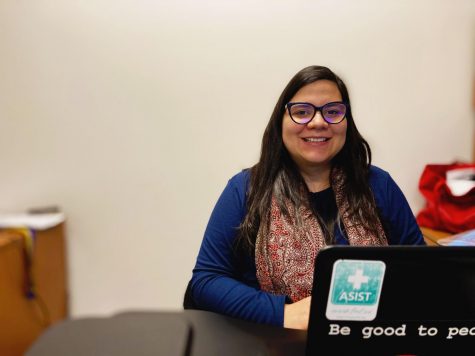 Normally Ms. Macias's job would have had a different role, mainly one of being in person and talking to families and students throughout the day and helping to translate, but COVID-19 has shifted communication. 
"A typical day is making a lot of phone calls in the morning and throughout the day," Macias explains.
Most of Macias' calls are to inform parents and families about school updates.
"At the beginning of the school year it was calling to make sure that everybody was on the same page with the hybrid schedule, now it's just calling and checking in with families, and the communication is all in Spanish, so they appreciate that," Macias says.
Macias also calls parents about their student's academic performance and behavior.
"Giving them information about the academic progress, attendance, any concerns that the teachers may have." This can be seen as negative but Ms. Macias also calls about, "good news like, hey your student brought his grades up, your kid is doing really well." 
The communication is meant to facilitate connection and support.
"We don't want to call and just make negative calls about failing class," Macias explains, "but also good calls to encourage them and to continue supporting their kids."
To help bring students and their families into the community, Macias created a WhatsApp group and a Facebook page where the communication is in Spanish.  The Facebook page is called Comunidad Latina de EVHS, and it has everything that Doan posts on the Eagle Valley Facebook page but in Spanish.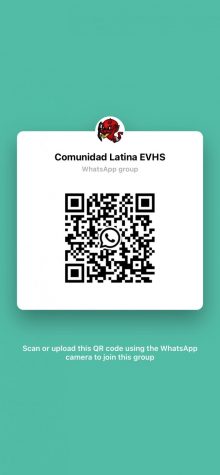 Macias also works very closely with Mr. Bartlett, and their offices are right next to each other. 
"When he needs my support reaching out to our Spanish speaking families, I'm there," Macias says. "He will come and let me know that, hey this student is on my radar. So that we reach out to that family."
These meetings keep Macias very busy.
"On average we have about four or five meetings a day with different families. We are reaching out to more than we did in the past," Macias explains. "It's important knowing that our Spanish speaking families can feel comfortable calling the school, knowing that someone will understand what their concern is."
Ms. Macias coordinates events and programming outside of school to engage the Spanish speaking Eagle Valley community as well. Her most recent event was a parent meeting in the Eagle Villas. 
"We started in September, and we've been going to the families," Macias says. "We had a parent meeting at the Eagle Villas, and we met outside, and we had some pan dulce, and some coffee.We gathered around, ten moms and dads, and we just went over information for the school changes, how are we keeping our students safe here at school with COVID."
The next meeting Macias organized was another event in October, also at the Eagle Villas.
"We went over parent teacher conferences, we helped them sign up, and we answered any questions."
Showing up in the community is crucial to keeping parents informed about the school and their students. But Macias is also adapting to the virtual platform. In November she held an event through Zoom, which she says is "more user friendly for our Hispanic families."
Ms. Macias is adapting to the times and doing everything to reach students and families, including partnering with local organizations. Recently she has worked with My Future Pathways to help organize events.
"This organization has been coming every other week, meeting with Hispanic boys and girls," Macias explains. "It's all about inner drive. We ask them why education is important. I know everybody is having a rough year this year, but we need to persevere."
Macias believes it is important to be able to give this message to students, and she says she also really appreciates that the meetings are all in Spanish. 
"
"I think it's just as important to remember that both sides exist. It's okay that we live in different worlds; we just have to admit and acknowledge that.""
— Ms. Weibel
Ms. Macias said that these messages are important to give to students and that she "Just wants to help our Spanish speaking students to have role models that they can identify with."
This year's projects are just the start for Ms. Macias. she already is planning for the future. When COVID-19 is under control, she'd like to do a big event for next year's National Hispanic Heritage Month. She also wants to expand the neighborhood meetings she has been able to hold at the Eagle Villas to Gypsum and Dotsero.
Ms. Macias's efforts are essential to reaching the Spanish-speaking community and including them in the Eagle Valley community. 
As Ms. Weibel, the English Language Development teacher who works with Ms. Macias puts it, "I think it's just as important to remember that both sides exist. It's okay that we live in different worlds; we just have to admit and acknowledge that."