Outrunning COVID-19
Eagle Valley distance team continues to support each other during season of uncertainty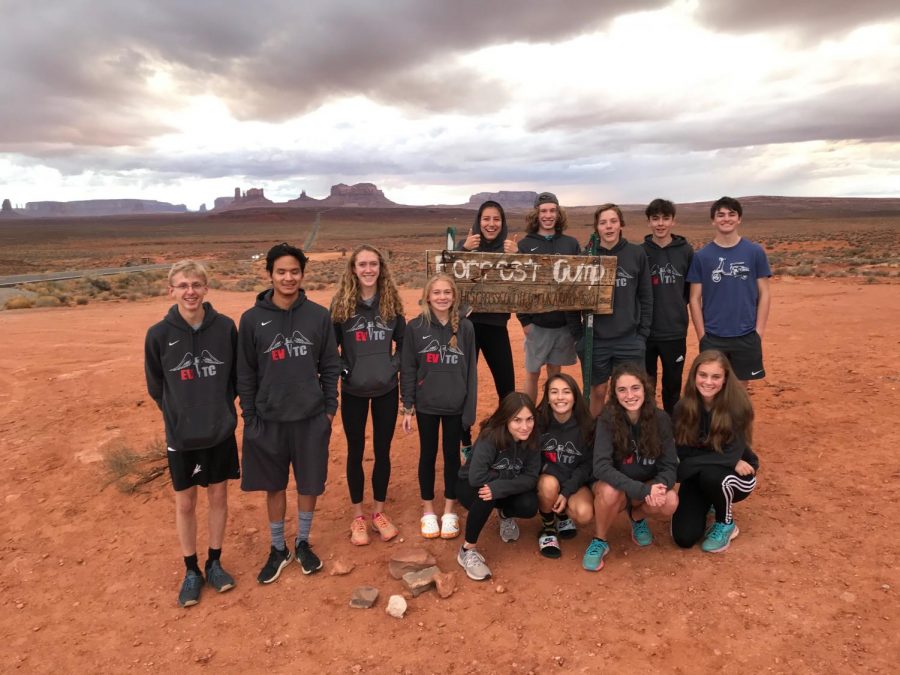 Losing their sports season has been devastating, but the Eagle Valley Track team isn't letting it slow them down. The distance team's head coach Charlie Janssen has been giving his team weekly challenges to keep them in shape. 
According to Janssen these challenges, "aid in keeping them race sharp but they also really like to one-up each other."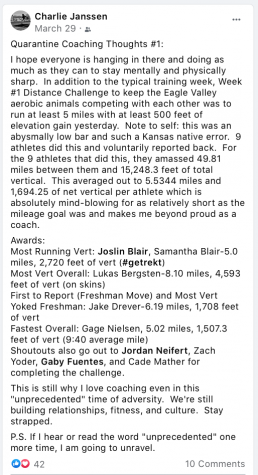 Team morale is very important to the track coaches, because according to Janssen, "If there is not a feeling of optimism, inclusion and accountability, a team falls apart, whether you have an official season or not."
The challenges enable the team to continue to support each other as they train for their sport while still maintaining social distancing and adhering to CHSAA's cancellation of the spring season.
Being part of this team during quarantine has helped a lot of runners.
"Our team is one that has really become a family," Gage Nielsen '21 stated. 
The track team has created a positive team culture that continues even through these tough times. Aside from the challenges, athletes have been doing other activities  by themselves to stay in shape. 
Jake Drever '23 has been "running and working out to stay in shape," while Joslin Blair '20 says she has been "trying to follow a similar schedule to what we would've been doing in the track season." 
Though these athletes have been training independently while in quarantine,  they haven't truly been alone. 
"Our distance squad has maintained very good contact with each other and we have online weekly meetings to hang out and have fun with each other," Nielsen said. 
The track team has continued to remain a unit and are supporting each other through these tough times. 
"I've texted my teammates just checking up on them and seeing how they're doing," Callis stated. 
Everyone on the team has taken it hard, but each person has a motivator that helps them keep pushing. For Blair, it's her sister, Sammi Blair '23.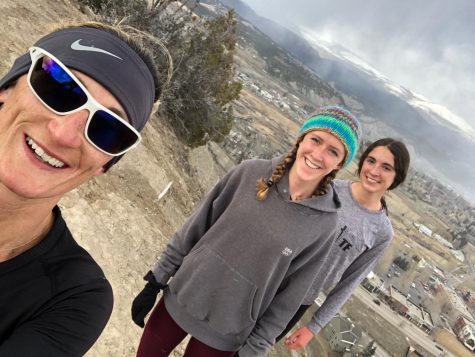 "I'm really lucky to have my sister as a training partner which has helped me to keep working despite the uncertainty," Blair said. 
For Nielsen,  his love of the sport is what has kept him moving forward 
"I have continued to train as I normally would for several reasons, the main one being that I love running and it really pushes me to be better," Nielsen said. 
The Track team continues to work towards their goals and support each other during a challenging  time. 
"There is no doubt in my mind that our team will not be defeated by it [COVID-19]," Nielsen said.
They say "imitation is the sincerest form of flattery." In what is perhaps the ultimate expression of team bonding, the distance girls surprised Coach Janssen with a photo montage of them impersonating his photos from over the years.